5G growth in the next five years
By 2025, there will be a total of over 1.5 billion 5G connections, according to a recent report by Juniper. And this growth is also expected to reflect in operators' revenue margins. By 2025, many 4G subscribers will rapidly migrate to 5G and will also embrace the business use cases it enables. With this migration, 44% of global operator billed revenue is estimated to come from 5G, projected to reach $357 billion. Clearly, 5G is pegged for robust growth, so what revenue sources can operators capitalize on first?
Top 5G revenue streams
Consumer Segment
Customers today already expect superfast broadband, and this demand will continue to grow as more advanced services are introduced. In addition to providing high-speed services, 5G fixed wireless networks can provide last-mile connectivity to replace fiber infrastructure and are easy to deploy, making them especially relevant in locations where fiber deployment may be difficult. In other words, consumer ISP services are among the high ROI 5G revenue streams with high ARPU.
Rather than completely overhauling their offerings, operators will have the flexibility to create new revenue streams by modifying their existing business models in phases, leveraging their existing infrastructure and technologies. This includes plans with differentiated pricing based on speed, latency, reliability, as well as new usage charges. So, for instance, a CSP that currently provides voice, data, and video offerings can add value by introducing use cases that focus on meeting the Quality of Service (QoS) needs of different retail or enterprise customers.
5G provides a huge opportunity for innovative ideas, new products and services, and transformed business models. Combined with its ability to leverage data and gain advanced insights into customer usage patterns, it helps create new business opportunities like never before.
Some use cases include:
The Internet of Things (IoT), with new devices connected to 5G like home appliances, vehicles, and gaming devices
Advanced plans and bundles such as differentiated speeds, multi-device, on-demand, unlimited, QoS-based
Access to applications requiring enhanced mobile broadband (eMBB) and ultra-reliable low latency (uRLLC) capabilities, including immersive media and entertainment like enhanced video, AR, VR, cloud gaming, and live event streaming
Enterprise Segment
Along with supporting faster data speeds—roughly 10 times more than what 4G networks are capable of today—5G works with a host of technologies to enable faster, more efficient, streamlined business operations. It enables new use cases by transforming the underlying core network architecture to support virtualization and integrates edge computing, artificial intelligence (AI), automation, IoT, cloud applications, and other technologies that help overcome the limitations of legacy networks. This fundamental evolution helps facilitate digital transformation for enterprises, creating new revenue streams.
Enterprises can gain from the advanced features 5G offers. In many scenarios, businesses can benefit from eliminating office wiring for fully wireless environments. They can remove last-mile bottlenecks using eMBB, and uRLLC can transform businesses in several sectors, including financial services, autonomous fleets, mining, energy, and more, connecting all devices and equipment and streamlining operations.
At present, many enterprises operate on WiFi and/or LTE, but 5G will revolutionize these networks by providing a secure, cost-effective solution that supports advanced technologies such as machine-to-machine (M2M) communication, IoT, AR/VR, AI, robotics, and more.
Private 5G networks further present high monetization opportunities with Industry 4.0 applications such as:
Smart buildings, cities, farms, factories, energy, security, transport systems
Connected offices, including sensor-based building management
Healthcare: virtual surgeries, telemedicine, implantable device monitoring
Agriculture: connected drones, sensors, cameras, RFID devices to monitor soil quality, irrigation systems
Education: virtual classrooms, remote learning, holographic AR
Retail: extreme personalization, immersive shopping experiences such as magic mirrors and virtual assistants, recognizing shopper behavior through video analysis, predictive inventories, automated checkout at unmanned stores
In addition to facilitating new technical capabilities, 5G networks can also enable a host of business outcomes, such as:
Improving employee productivity by empowering them with faster, more efficient, connected devices
Streamlining production, business operations, warehouse management, and leveraging data to predict outcomes
Enabling high-quality video and conference calls
Integrating immersive AR and VR experiences such as virtual walkthroughs for customers, employees, and stakeholders
Accelerating time-to-market of products and services
Transforming the customer experience
Partnerships
As consumer demand evolves, telcos will need to look beyond traditional buyer/seller models to enrich their capabilities. Building a wide ecosystem of partnerships presents high revenue potential, especially in the long run. Operators and ISPs are already evolving their business models that will enable them to create platforms or digital marketplaces in the future where they can connect users to services. Leveraging technologies such as open APIs and the 5G Network Exposure Function (NEF), they can launch new and innovative business models.
To develop viable 5G use cases, CSPs will need to collaborate with ecosystem partners for IoT, content, enterprises, cloud, and edge orchestrators. This could include companies that develop devices such as drones, robots, and sensors, technology partners, industrial manufacturers, and more. Implementing a complete 5G core, including SDM, AUSF, CHF, NEF, and more will enable these partnerships.
Partnerships can enable new B2B, B2C, and B2B2X business models based on connectivity, shared infrastructure, IIoT, eMBB, uRLLC, mIoT for marketplace platforms, and more.
Some partnership-centric 5G business models that will offer tremendous revenue opportunities for telcos include:
Revenue-sharing – similar to content bundling and mobile services combos in 4G/LTE (such as watching a movie or live event and charging for it with the monthly bill), 5G will create multiple revenue streams through collaborations, IoTs, third-party communications, and entertainment bundles, each based on different business models.
Commissioning – open new monetization channels by treating your network as a platform, like iOS or Goole Play. When partners sell devices, subscriptions, or content through your marketplace you can earn a fee or commission.
Wholesale networks – leverage the massive investment of building a 5G network by leasing out a slice like a traditional MVNO model. In 5G, the types of MVNOs and service providers looking to host their own network will exponentially grow as the types of services offered expand.
Flexible charging and policy models – the modern, flexible, and advanced charging function (CHF) and policy control function (PCF) of the 5G core enable operators to truly harness 5G's monetization potential with partners. CHF helps charge for everything, supports a wide range of service models, and allows real-time charging on various types of events, ensuring zero revenue leakage across services. PCF enables comprehensive policy management, helps implement network slice-based policies for high-end applications such as remote surgeries, robot automation, autonomous vehicles, cloud gaming, and more.
Slicing
Network slicing makes it possible for operators to build multiple dedicated networks, with each one designed to fulfill the diverse needs of different business verticals at the same time. While operators may not see immediate ROI, slicing holds strong promise for the future, especially once RAN is deployed everywhere.
From ultra-reliable communication for autonomous vehicles to enhanced mobile broadband for gaming applications, operators can build a different "slice" for each requirement by segmenting the physical network into multiple logical networks. Integrating Network as a Service (NaaS) enables the physical network to be split into these logical instances, helping operators market and monetize individual slices while letting customers control the specifications of their slices.
Some examples of slices:
Service-based slicing
Based on Service Level Agreement (SLA) requirements: speed, QoS, security, reliability, latency, services, and more
Usage-based monetization
Slices for live broadcasts
Slices for massive IoT
Slices for industrial automation
Conclusion
The transition to 5G will initially require large capital expenditure, and ROI will need to come from more than consumer mobile business. As 5G permeates, we're certain that private 5G will see widespread adoption. Operator deployments will be especially beneficial to small and medium enterprises, and our industry-leading 5G Core offerings equip operators to cater to these enterprise clients.
Alepo provides end-to-end solutions to meet diverse 5G transformation needs. To this end, we have forged partnerships with leading technology innovators. We also partner with local system integrators to ensure regulatory compliance and flawless implementation. Alepo is an early mover in global 5G implementation, and our solution undergoes continual R&D to ensure we provide market-leading innovation, enabling our customers to have an edge over their competitors.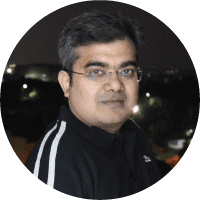 Anurag Agarwal
Director – R&D (5G)
A telecom veteran with over 20 years of experience, Anurag is a researcher at heart. He's always up to speed with the newest technologies, including 5G RAN, IoT, edge computing, network management systems, and more. After hours, he is a fitness buff who loves badminton, squash, cycling, and running marathons.
Subscribe to the Alepo Newsletter