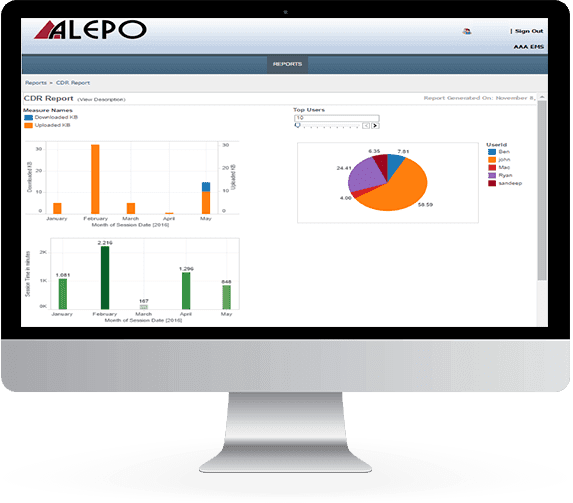 Optimize your network performance with Alepo's Authentication, Authorization, Accounting (AAA) server – an industry-leading solution built for wireline, WiFi, and 3GPP mobile networks alike.
What is AAA Server?
Authentication, Authorization, and Accounting (AAA) is an intelligent and essential service and policy control framework in WiFi, FTTx, 5G, and other IP-based broadband networks. The AAA framework facilitates access controls on networks, authenticates valid subscribers to use services, and monitors, audits, and accounts actions performed by subscribers.
What are the uses of the AAA Server?
A robust AAA framework optimizes the utilization of resources, facilitates high availability, and ensures scalability and a high QoS to meet dynamically changing network traffic demands. An advanced AAA server helps streamline operations and supports next-gen use cases like slice authentication, authentication and authorization for DNN provisioning, and authenticating access from non-3GPP networks.
5G and NFVi Compliant 3GPP AAA Server
Seamless Authentication, Authorization, Accounting (AAA)
Alepo's 3GPP AAA server handles signaling noise caused by authentication failures, non-human traffic, and malicious activities, achieving the highest signaling speeds, improved capacity, and five-nines availability. Its self-healing capabilities hasten recovery from network failures and outages. The emergency mode keeps services online even without database connectivity.
Centralized configuration management swiftly updates all changes across AAA nodes, improving operational efficiency and reducing errors. Alepo's integration framework uses API gateways for smooth AAA transformation without impacting existing IT systems.
Connect All Networks - Fixed, Mobile and WiFi
Alepo's dual-stack RADIUS and Diameter 3GPP AAA helps streamline operations, reduce total cost of ownership (TCO), and deliver convergent services using a single AAA portal for fixed (xDSL, FTTx, cable), wireless (WiFi, WiMAX), and mobile (3G, LTE, EVDO, HSPA, 5G) networks.
Implement WiFi calling (SWm, S6b, STa), WiFi offload (SWx, SWa, EAP-SIM, EAP-AKA, EAP-AKA'), M2M, real-time charging (DCCA, Ro), and other emerging mobile use cases and Alepo's carrier-grade WiFi hotspot business model enables full monetization.
Real-Time Policy Control With Enhanced Charging Abilities
Launch prepaid plans with zero revenue leakage, deliver bandwidth-on-demand/turbo boost, and communicate instantly with customers using real-time policy control. Real-time quota management accounting enables online charging abilities based on time, volume, and events.
Instant mid-session policy changes let you enable new plans and services without requiring subscribers to disconnect or reset their connections. The AAA also facilitates dynamic redirection of hotline customers based on packet requirements.
Advanced Analytics, Best of Breeds, 5G-Ready, Cloud-Native AAA
The stateless server offers unmatched capabilities:
Is deployed at leading global CSPs: Saudi Telecom, Digicel, Ooredoo, and more.
Deploys in any NFVi environment using ETSI-based standard integration.
Integrates with the 5G core network to perform slice authentication, authentication and authorization for DNN provisioning and authenticating access from non-3GPP networks.
Provides usage and location-based analytics.
Dynamically scales horizontally and vertically: industry-leading TPS benchmarks and sub-millisecond latency.
Includes custom scripting to meet new requirements without touching the source code.
Supports public, private, or hybrid cloud models.
Ensures vendor neutrality: a decade of IOTs with leading industry players.
Virtualized AAA (vAAA) ensures scalability, performance, optimal resource utilization, and smooth operations irrespective of network traffic load. Learn how to overcome its deployment challenges, obstacles, solutions, benefits and more.
Holistically evolving your AAA and policy framework to one that is modern, scalable and highly extensible enables you to realize sophisticated end-to-end business processes and achieve greater network optimization. Here's how Alepo's AAA Transformation can help.
A failproof plan is essential to overcome the potential pitfalls of migration when transitioning to a modern next-gen platform. Learn how to build an impeccable migration strategy to ensure your network remains unaffected as you meet your business goals.
Alepo's high-performance AAA and policy framework helped STC achieve faster and more automated provisioning and service fulfillment for its growing subscriber base, resulting in a three-fold increase in AAA performance capacity and ten-fold increase in response time.
Zain Jordan switched to Alepo's carrier-grade AAA server, which helped expand its fiber footprint. Within just four months, the network capacity increased by 100%, helping the operator serve 80% more requests per second while supporting exponential subscriber growth.
ETB modernized its fixed broadband AAA services with an Alepo solution, boosting capacity, enabling endless scalability to support its ever-increasing subscriber base and providing features to handle retail internet services, all with no further network investment.
Implementing a carrier-grade AAA is one of the best ways of modernizing the network to boost performance and improve CX. Here's how it works.
Eiasa has launched the high-speed fiber broadband service – Megaya – using Alepo's Broadband AAA solution, in partnership with system integrator Italtel.
Orange Guinea Sonatel to streamline FTTH operations using Alepo' AAA Transformation solution to improve agility, performance, and customer experience.
WOM set to launch high-speed FTTH services using highly scalable, stateless Alepo AAA server to meet the increasing bandwidth demand in Santiago, Chile.
The upgraded system further digitizes the customer experience, eliminating manual provisioning The AAA will be more robust, with additional failover, monitoring, and proactive alert features Security enhancements provide comprehensive role-based access Customers will...
Subscribe to the Alepo Newsletter