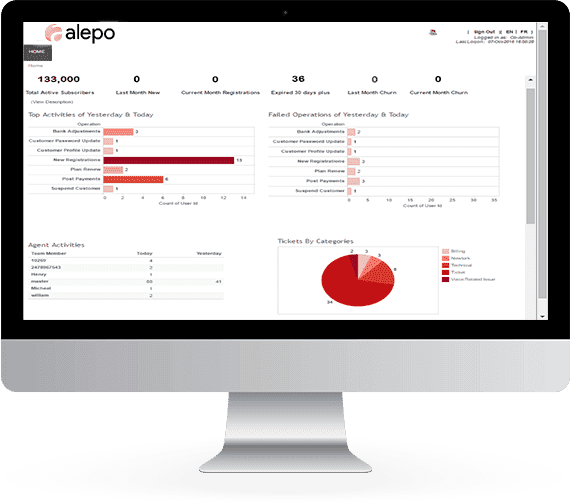 Digital Business Support System (BSS)
Digital BSS (Business Support System)
A comprehensive digital BSS platform comprising convergent charging, billing, digital CRM, promotions and campaigns,
omnichannel self-care
,
partner management
, and many more modules, enabling rapid delivery, monetization, and management of the latest communications services.
What is digital business support system (digital BSS)?
A digital business support system (digital BSS) provides an elastic, modern, and convergent system in a virtualized network environment, enabling CSPs to automate business processes and introduce differentiated services. The digital business support system also enables telecom operators to leverage 5G opportunities through modern and advanced
5G use cases
. A
BSS transformation
helps modernize fixed and wireless networks. And since a digital BSS is modular, it can be rolled out in phases, mitigating migration risks.
What are the uses of telecom BSS?
A telecom BSS enables communications service providers to create, launch, deliver and manage their services. A digital BSS provides a single convergent platform for efficient revenue management through process automation and digitization. The telecom BSS lets telecom operators offer innovative personalized offerings and boost CX with streamlined sales, customer life cycle management, omnichannel customer support, advanced partnerships, inventory management, enterprise services, and more.
5G-Ready Modular Digital BSS Stack
Digital-First Customer Experiences
Alepo Digital Business Support System has a
built-in CRM
to digitize CX and improve customer acquisition and retention. The advanced telecom BSS automates workflows and operations, streamlining sales and support.
Alepo's device-responsive omnichannel self-care with AI chatbot integrations enables 24x7x365 instant support, empowering customers to choose their preferred platform and reducing burden on CSRs.
Alepo's centralized product catalog helps operators rapidly launch innovative offerings in response to evolving market demands.
Alepo's Promotion and Campaign Management System enables upselling and cross-selling, loyalty and rewards programs, alerts and notifications, and more.
Alepo's Zero-Touch Network Solution enables incumbent and greenfield operators to launch their all-digital MVNO brand, requiring no physical touchpoints and much lesser capital investments.
Watch recording: Webinar on zero-touch networks.
Revenue-Driving Capabilities
Converge network types:
the convergent Digital BSS brings together multiple communications service offerings (voice, data, content, VAS) and access technologies (5G, LTE, 3G, WiFi, xDSL, FTTx, and WiMAX). Lowers total cost of ownership (TCO) and enables differentiated services.
Charge in real-time:
the robust and flexible
Online Charging System (OCS)
supports session- and event-based rating, online and offline charging; includes flat rates, usage-, time-, content- and destination-based rates, and more. Eliminates revenue leakage.
Expand market reach:
Alepo Mobile Point-Of-Sales (mPOS) empowers telecom operators to enhance in-person sales and support.
Alepo Mobile POS
includes a mobile app and web portal and offers stringent role-based access control (RBAC), making it ideal for all users, including agents, dealers, and distributors. It has an intuitive, easy-to-navigate interface that simplifies user operations and streamlines sales and support.
Download Solution Brief: Alepo's Customer Value Management
Streamlined Management
Partners:
Alepo's Partner Management and Settlement (PMS) supports n-level hierarchy for wholesalers, distributors, affiliates, OTT and
interconnect partners
.
Enterprises:
Alepo's Enterprise BSS
includes Enterprise Self-Service (ESS) and Salesforce CPQ modules, facilitating better management of an effective lead-to-sale process and enabling rapid configuration of bundles, pricing structures, subscription mechanisms, and more. Integrates with external CRM systems.
Products:
centralized product catalog enables defining and bundling plans across access technologies, for prepaid, postpaid, and hybrid plans.
Orders:
end-to-end management of different business processes is easy and automated.
Inventory:
supports all inventory types, enabling operators to import, update, assign, allocate, transfer inventory, set quarantine periods, automatically provision SIMs to the HSS.
Download Product Brief: Alepo Enterprise Self-Service (ESS) Portal
Advanced Analytics: Be Informed
The built-in business insights and real-time analytics of Alepo's convergent Digital BSS empower telecom operators to have a holistic view of their business to make smarter business decisions and increase ARPU. The enterprise-class
Business Intelligence
(BI) reporting server has a report designing tool, displaying reports on a graphically rich and interactive dashboard. CSPs can evaluate the popularity of different plans and promotions, identify top users for special campaigns, track revenue, and more.
Download the NTA case study to learn how Alepo's digital business support system and advanced business insights helped the operator increase ARPU by 70%.
Download Product Brief: Alepo's Advanced Data Online Charging System (OCS)

Provides multilingual digital channels such as web and mobile self-care, and AI chatbots for popular voice assistants (Alexa, Cortana) and social platforms (WhatsApp, Skype, Facebook, Twitter, Viber, and more).
An end-to-end analytics-driven system to manage digital customer engagement such as promotions, campaigns, loyalty points, and more. The intuitive system helps maximize ARPU and reduce churn.

Enables operators to filter, correlate, merge, and normalize data and distribute it to traditional downstream consumers and advanced analytical systems. Can be deployed on-premise or on the cloud.
Designed to simplify management of the complex and diverse partnerships in wholesale and 5G networks from contract onboarding to billing and settlement.
Enables operators to manage the entire distribution chain, including inventory, CRM, partners, field agents and more. The unified platform also provides valuable customer behavior insights.

Lets service providers cater to small and large enterprise customers and secure any type of B2B or B2B2C business model, efficiently managing complex partnerships, varied billing models, and more.
Alepo's Zero-Touch Network Solution provides modern telecom BSS capabilities, enabling you to build an all-digital mobile brand and digitize legacy networks. Download the solution brief to learn how it reduces OPEX and CAPEX while enabling digital-first CX.
Alepo remains at the forefront in helping evolve CSPs across the Pacific. Read this comprehensive regional perspective to learn about the unique challenges of the region, where digitization is transforming telecommunications.
With its class-leading 5G-ready architecture, Alepo's Digital BSS enables CSPs to implement next-generation networks, support a host of modern and innovative services, and rapidly generate a high ROI.
ACS Myanmar raced ahead of competitors to launch the region's first LTE-only service, ananda, using Alepo's Digital BSS and managed services offering. ACS signed 60K subscribers within the first month, delivering high-speed internet with personalized and differentiated offerings, and streamlining business and network IT operations.
Bitflux launched Nigeria's first wholesale LTE services, catering to MVNO and MNO clients, using Alepo's dynamic and future-ready MVNE billing platform with an affiliate management solution. Learn how the solution equipped Bitflux to quickly respond to a constantly evolving market and offer a high-speed differentiated data experience.
SaskTel, a tier-1 Canadian operator, launched its MVNO brand, Lüm Mobile, using Alepo's Zero Touch Network Solution. Download the case study to learn how SaskTel launched a new mobile brand with 91% lesser costs than traditional wireless services and achieved 10% per month subscriber growth within three months of deployment.
eSIM offers telecom operators numerous revenue opportunities and benefits. Read the blog to learn all about eSIM, its use cases, and how it differs from SIM.
Teletok launches Alepo's convergent billing system, streamlining 4G LTE, GSM, PSTN, and ADSL management for efficiency, revenue growth, and streamlined operations.
ETI Guinea partners with Alepo to modernize its fiber network and provide support for future LTE services. Alepo's solution includes AAA, PCRF, and Digital BSS.
Alepo's Converged Core solution supports advanced 5G use cases, compliance with hyper-scalers, easy one-step installation, and 5G MOCN, PNI-NPNs and SNPNs deployments.
Alepo's convergent fixed IN solution helped Kurdtel Communications streamline charging and network management for residential and enterprise services.
Subscribe to the Alepo Newsletter