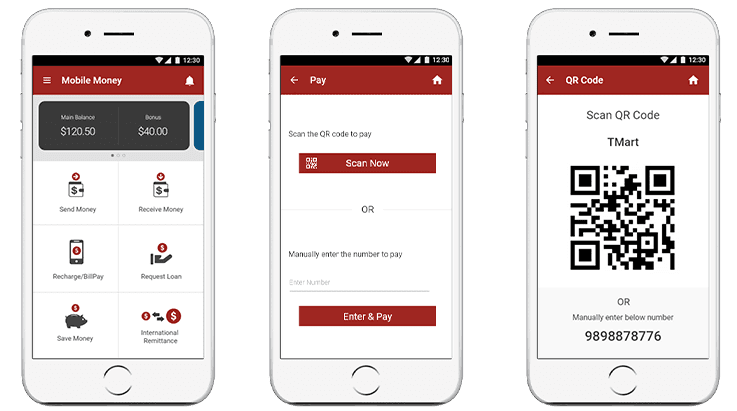 Digital Payments Platform
A comprehensive suite designed to drive financial inclusion and cashless adoption. Revolutionizes banking in underserved markets, helps service providers increase their footprint and monetize offerings, enables seamless and secure digital transactions.
What are digital payment methods?
Digital payments include all online financial transactions. These can be completed using different types of
mobile wallets
, cashless payments, mobile apps from banks and other digital payments service providers, bank-to-bank transactions, bill and P2P payments, and more. Further agent banking is increasingly gaining momentum in places where physical banks are sparse, enabling field agents and bank representatives who can use their mobile devices to bring banking services to the customer.
Why is digital payment important?
Digital payment platforms afford customers the convenience of making payments anywhere and anytime they have access to a device connected to the internet. Service providers stand to benefit equally as they are able to offer a host of services that boost customer experience and build loyalty while opening new monetization opportunities. In addition to enabling digital transactions, they can also offer rewards, promotions, microfinance options, credit-scoring, and more. Plus, the pandemic has highlighted the need for safe and secure cashless transactions around the world. And, pandemic or not, digital payment platforms enable financial inclusion of underserved populations where banks and/or ATMs are sparse.
Among the first platforms to use a private blockchain to ensure a tamper-proof and secure ledger, Alepo's Digital Payments platform lets you build a diverse financial ecosystem, with built-in support for bulk disbursements, multiple balances, and promotion management.
With its class-leading 5G-ready architecture, Alepo's Digital BSS helps communications service providers transform into digital service providers, enabling a host of services including digital payments.
Alepo's Digital BSS has a class-leading 5G-ready architecture that enables CSPs to transform into digital service providers. Its modular architecture means its various modules can be deployed independently or in tandem.
The digital transformation accelerated by the pandemic will continue through 2021. From 5G to IoB, a roundup of the telecom trends we expect to see.
YOFC has selected Alepo's vendor-agnostic Business Support Systems and Operations Support Systems (BSS/OSS) to deploy high-speed fiber broadband services in Peru.
Alepo's Zero-Touch Network Solution enables Lüm Mobile's all-digital service through the operator's website and app, with no stores or customer-facing agents.
Digicel has deployed Alepo's cloud-based Broadband AAA to modernize its FTTx services across the Caribbean islands. The services were migrated seamlessly with zero downtime.
Alepo's fixed broadband solution has enabled VNet to launch innovative plans and offers, onboarding direct subscribers as well as affiliates including MSOs and LCOs.
Subscribe to the Alepo Newsletter