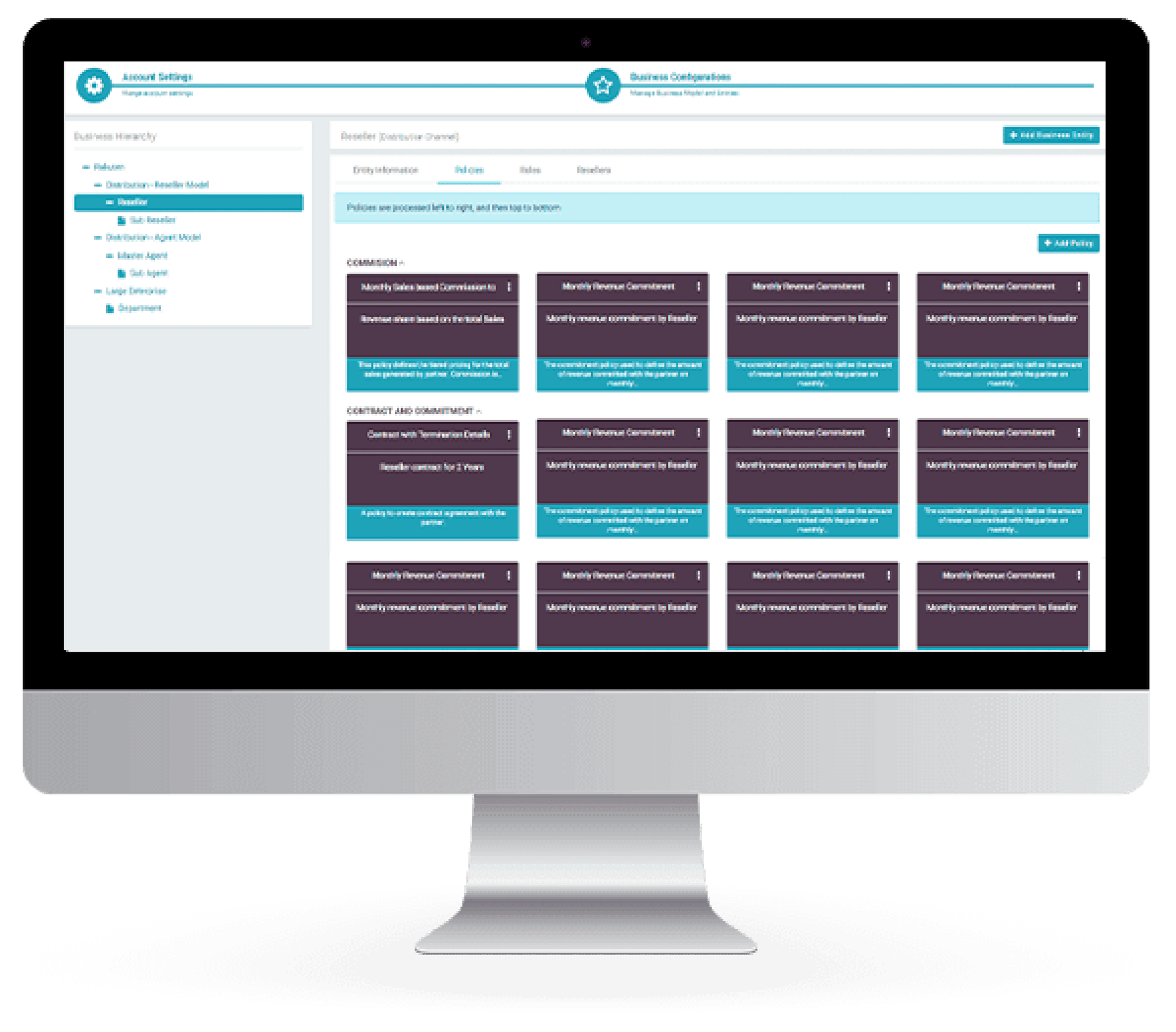 Distributor Management System
Distributor Management System
A unified distributor management system for operators to manage their entire distribution chain. Control everything from
inventory and CRM
to partners and field agents, while gaining valuable customer behavior insights to improve processes.
How do telcos manage the distribution chain?
Telcos manage their distribution chain using a distributor management platform, which is part of the
Digital Business Support System (BSS)
. This platform helps them easily and efficiently manage distributor and field agent operations as well as the customer lifecycle. A distributor management system enables them to empower distributors to simplify customer onboarding, bill payments, and issue resolution, and more, while gaining in-depth analytics to help improve processes.
What is a distributor management system in telecom?
A distributor or partner management system enables operators to control their full distribution chain, from partner, distributor, and field agent operations to processes governing the customer lifecycle. It provides a unified platform for operators to let distributors assign permissions for different operations to specific staff members, offer more control to their field agents through smart points of sale (POS) to simplify customer onboarding and manage customer information, configure commissions, manage inventories, gain detailed BI insights, and more.
Create Multiple Points of Sale
The smart Points of Sale (POS) network enables
partners
and distributors to grant their field force access to all necessary information and permissions for efficient customer service. These field agents are empowered to:
Quickly and easily onboard retail and enterprise customers, choose tariff plans and services, complete KYC, and more.
Make bill payments, recharge balances, buy add-ons on behalf of customers.
Act on tickets assigned to them, upload supporting documents and update changes to the ticket status.
Manage The Customer Lifecycle
Distributor Management facilitates the efficient management of all aspects and all levels of customers, enabling you to:
Effortlessly onboard all customers: retail, enterprise as well as their customers.
Manage information, upload KYC documents, change plans, update user status (block and unblock users), raise tickets for customers, and more – all from an easy-to-use interface.
Simplify Distributor Operations
Configure n-level hierarchy: set strategic distributors (SD), common distributors (CD), big distributors (BD), retailers (call box, freelancers, door-to-door), end-users, and so on.
Grant role-based access: a distributor can permit different actions by multiple staff users.
Offer extended credit: ensure distributor operations run smoothly even when their balance is low.
Configure tax policies: for all partner levels based on regulatory and business needs.
Apply commissions: easily configured and viewed in a consolidated report; distributors can also view their own commission.
Set inventory prices: configure for different distributors and access reports with the Inventory Management module.
Gain BI insights: the reporting and analytics module provides location-specific insights to sales personnel.
The Interconnect Billing platform enables communications service providers (CSPs) to charge other operators for using their network infrastructure (voice, data, SMS, and more). Learn about its monetization-driven capabilities (such as diverse partnerships, advanced agreements, BI insights, and more), features, benefits, who it's for, solution architecture, and more.
With deployments for greenfield and incumbent CSPs across Africa, including the launch of Nigeria's first wholesale LTE services, Alepo has helped shape telecommunications on the continent. This regional perspective details how Alepo solutions help overcome challenges specific to the region, accelerate innovations, and drive ROI.
Alepo's Distributor Management System enables operators to manage their entire distribution chain, simplifying operations and customer management, creating multiple POS for efficient customer service, and facilitating quick business decisions related to the distributor line of business. Read the product brief to learn its features, benefits, and unique selling points.
The state-owned operator decided to launch 
4G LTE services
as part of the Niue government's plan to transform telecommunications on the island, with a complete Digital 
BSS transformation
 from Alepo and network expertise from Blue Arcus. Telecom Niue witnessed a 100% increase in coverage and 20% OPEX savings in two months.
Aiming to cater to MVNO and MNO clients and offer a high-speed differentiated data experience, Bitflux launched Nigeria's first wholesale LTE service using Alepo's core LTE solution with a built-in affiliate management system. Alepo's solutions helped build a dynamic future-ready system enabling the operator to instantly respond to shifting customer needs.
Fraught with multiple network disruptions, the operator overhauled its network using Alepo's digital transformation. Migrating to a more flexible, stable, and on-premise digital BSS helped eliminate the frequent disruptions and lags, improving CX, reducing churn, and boosting revenue within just a few months of deployment.
Even as network usage patterns undergo a drastic change in these challenging times, there's still ample opportunity for companies to evolve. Here's how.
Alepo's digital transformation modernized Eswatini Mobile's network, boosting CX by ending frequent network disruptions, digitizing self-care, enabling advanced plans.
Alepo's network modernization solutions (Digital BSS, AAA) will upgrade Telecom Vanuatu Limited's (TVL) fixed data network. Enables advanced plans, web self-care.
Alepo had initially deployed a billing solution for TTC's LTE and WiFi services in 2017 On validating its success, TTC expanded its scope to a single convergent platform for all services The unified convergent platform offers support for 3G, LTE, and fixed-line...
Alepo has deployed its BSS solution and Managed Services Offering (MSO), enabling Amara Communications to launch data plans Launch of the data-only service, called ananda, marks Amara Communications' entry into the burgeoning telecom market in Myanmar The service...
Subscribe to the Alepo Newsletter