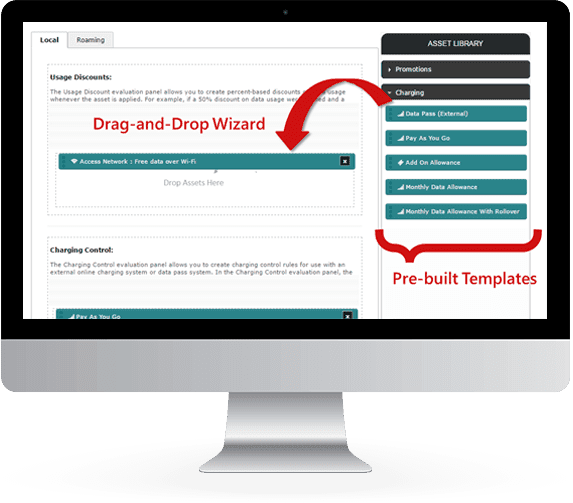 Policy and Charging Rules Function (PCRF)
Policy and Charging Rules Function (PCRF)
Alepo's Policy and Charging Rules Function (PCRF) lets telecom operators make informed policy decisions, launch innovative services ahead of their competitors, and generate higher revenue on fixed and
mobile broadband
networks.
What is the role of PCRF in telecom?
The 3GPP PCRF enables operators to launch new plans and services for their subscribers. Depending on what policy charging and control system they use, these plans can be highly personalized and contextual to meet evolving market demands. Telecom operators also have access to detailed business insights, helping them improve their offerings for specific customer segments, locations, and more.
What are the key features of PCRF?
A modern PCRF integrates both policy and charging systems for a more holistic approach to policy control and opens innovative new revenue streams. It enables operators to boost customer experience (CX) by enabling them to segment customers using advanced analytics to create contextual offers, monetize their data offerings through partnerships with various OTT players, implement custom use cases, and more. A robust policy and charging rules function is easy to use and enables telecom operators to rapidly configure new plans and services and bring them to market swiftly.
Alepo Data Charging is the most advanced platform of its kind, with a constantly updated use-case library, drag-and-drop service designer, and an award-winning mobile app. Learn how it can be implemented as an adjunct to existing core billing and charging capabilities.
The modern network demands a holistic approach to the PCRF – one that integrates policy and charging systems to help unlock innovative new revenue streams. This whitepaper discusses the advantages and challenges to policy and charging integration within a standard 3GPP LTE network environment, the latest use cases, and more.
Part of Alepo's Compact Core Solution, the PCF+PCRF facilitates a unified 4G/5G core, helping operators launch converged policy use cases. Download the product brief to know more about Alepo's converged policy control function, its benefits, and architecture.
ACS launched Myanmar's first LTE-only service – ananda – using Alepo's digital transformation, which included PCRF. ACS raced ahead of competitors to offer a sophisticated digital experience, including on-the-fly offers, targeted promotions, and personalized plans. Read how ACS signed 60K subscribers within the first month and how
Alepo's Managed Services
ensured seamless management of people, processes, and platform.
Alepo overcame pandemic-related travel restrictions to remotely deploy its digital transformation, replacing the operator's legacy SaaS billing system. The new 5G-ready system supports Eswatini Mobile in launching innovative offers and promotions to stay ahead of the competition. Read the full story on how the deployment was completed and its resulting benefits.
Alepo's industry-leading Data Network Monetization Solution helped the large multinational operator meet growing demand for mobile data offers and enable more sophisticated CX, while fully monetizing the new services. Read the full story to know how Alepo helped the operator deploy a convergent all-in-one data monetization platform for its legacy and LTE networks.
5G standalone (SA) core is the end goal for all 5G operators, even early movers beginning their next-gen journey with 5G Non-Standalone (NSA). Here's why.
Alepo's digital transformation modernized Eswatini Mobile's network, boosting CX by ending frequent network disruptions, digitizing self-care, enabling advanced plans.
Alepo has been shortlisted in the Delivering Excellence in Customer Experience category Alepo has won the nomination for deployment in West Africa, which creates a compelling customer experience that cuts across a diverse set of hardware capabilities and requirements...
Main mobile service provider on the South Pacific island of Niue In August last year, it launched 4G/LTE plans using Alepo's digital BSS platform The project has given residents and tourists access to new services: 4G speeds, VoLTE calls, digitized bill payment...
With Alepo's LTE and WiFi solutions, Tuvalu Telecommunications Corporation (TTC) aims for a swift rollout of new broadband.
Subscribe to the Alepo Newsletter