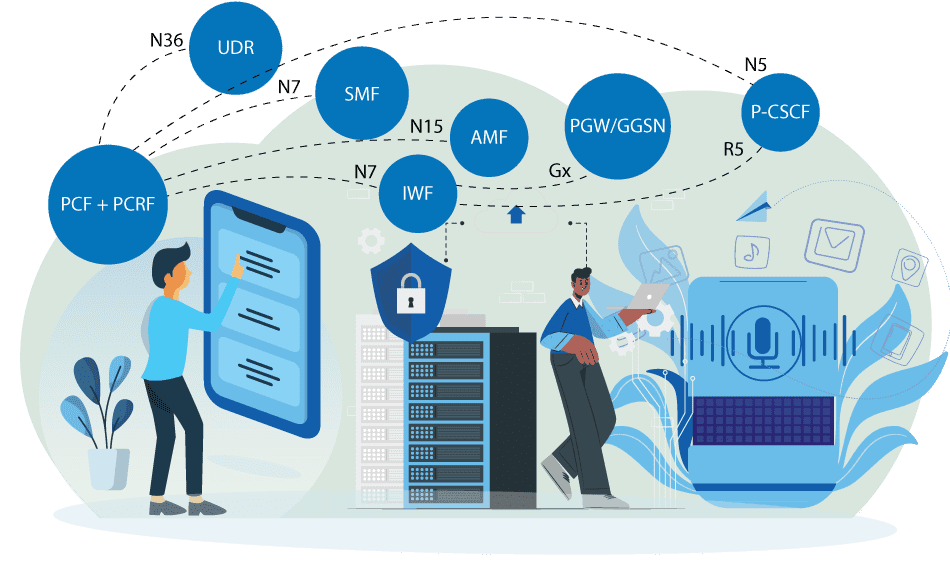 Converged Policy Control Function  (PCF+PCRF)
Converged Policy Control Function
Alepo's 3GPP Release 16 compliant combo node comprising 
Policy Control Function (PCF) and Policy and Charging Rules Function (PCRF) is a

 
converged (4G+5G) platform
 that empowers operators to easily and swiftly implement advanced policy use cases in 4G and 5G networks
.
What is PCF in 5G?
The 5G Policy Control Function (PCF) serves as a unified platform to govern the implementation of policy control and charging rules. It enables end-to-end policy management based on network parameters, implements slice-based policies for highly specific applications, supports innovation and enrichment through service exposure, and offers advanced analytics for improved services.
How does PCF work?
The Policy Control Function (5G PCF) uses the policy subscription information stored in the User Data Repository (UDR) to provide policy rules to network functions (SMF/AMF). It uses a standard REST-based interface to integrate with AMF for access and mobility policy, and with SMF for session management policy. The converged platform supports rule configuration based on subscription information and network parameters, and provides policies for data, voice, and application services in 4G and 5G networks.
Alepo 5G Core Network Function: PCF + PCRF
Advanced Policy Use Cases
Alepo's combo PCF+PCRF caters to policy control requirements in 4G as well 5G networks. It provides a unified platform for configuring and managing policy decisions based on various network parameters, user subscriptions, and usage to deliver the policies.
The use cases supported are:
Static as well as dynamic policies
Access mobility policy
Session management policy
IMS integration for VoNR and VoLTE
Seamless session continuity for inter-RAT handover
Intuitive Web Portal For Policy Configuration
Alepo PCF includes a flexible and robust web interface that empowers users to configure policy rules and their evaluation criteria based on their unique business needs. This helps operators create highly contextual and personalized offers that resonate with subscribers' digital lifestyles. Features include:
Provides an easy-to-use GUI to create policy rules with a rich set of policy conditions
Manages policy profiles for AM, SM (Session and PCC rules)
Provides a high-performance flexible rule engine for policy evaluation
Reduced Time To Market
Alepo PCF makes it simple to swiftly define new policy use cases with a rich library of ready-to-use policy use cases and a modern user interface. It enables operators to:
Drag and drop policy use cases into play
Reorder use cases based on priority
Visualize rule logic and hierarchy
Significantly reduce configuration time and errors
Rapidly launch 5G use cases and effortlessly transition to 5G with Alepo's 5G Core Network Solution. Download the flyer to understand the solution architecture, features and benefits, Alepo's deployment expertise, and more.
Alepo's PCRF integrates policy and charging systems to unlock new and advanced revenue streams. This whitepaper discusses the solution's features and benefits, common integration challenges, the latest use cases, and more.
This report by leading telecom analyst Ovum provides a detailed look at Alepo's PCRF, a highly scalable, easy-to-integrate, and user-friendly solution. Understand the solution's capabilities, benefits, USPs, and Alepo's expertise.
To wisely capitalize on the monetization possibilities 5G brings, CSPs must focus on these top enablers: business models, partnerships, innovations, and network architectures.
Coopeguanacaste has launched public WiFi in Costa Rica using Alepo's Carrier WiFi solution, including its cloud-based WiFi SMP to launch and monetize superior customer journeys.
Alepo will deploy its Broadband AAA for the network transformation, enabling Celsia to support evolving demand, introduce automation, boost QoS, lower OPEX, and more.
Dominican Republic service provider, Wind Telecom, selects Alepo's cloud vendor-agnostic AAA to transform its GPON infrastructure for its FTTx network services.
Orocom S.A.C. selects Alepo Digital OSS/BSS to deliver FTTx broadband in Peru, which will allow the operator in centralized and remote network management.
Subscribe to the Alepo Newsletter