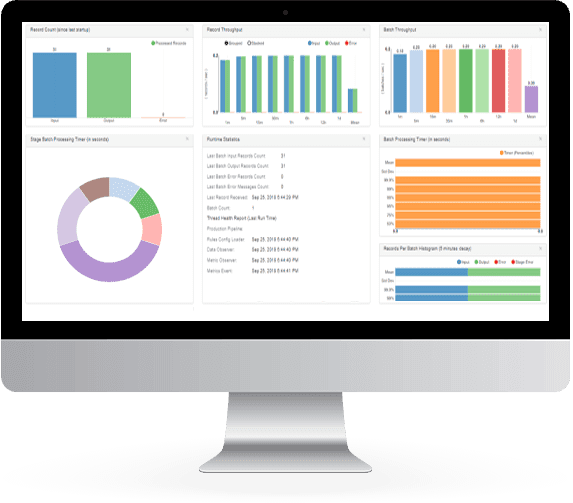 Convergent Mediation System
Alepo Convergent Mediation System has the power to filter, correlate, merge, and normalize data and distribute it to traditional downstream consumers and advanced analytical systems. Deploy on-premise or on the cloud, with support for a wide variety of billing mediation use cases, unparalleled performance and security, and real-time alerts.
What is telecom billing mediation?
Telecom convergent billing mediation platform simplifies efficient rating and billing by helping process, transform, and distribute data for various downstream sources such as consumers and analytics systems. Effective mediation in telecom plays a key role in improving revenue and reducing operational costs. A robust mediation billing system also streamlines operations with automated workflows, configurable error-processing rules, advanced reporting and data analytics, and more.
What is a BSS mediation platform?
A convergent billing mediation platform helps telcos manage the processing and distribution of data for rating and billing. Convergent Mediation System in telecom enables service providers to create and manage custom workflows, ensure transparency in data processing, and configure rules to minimize and process errors in real-time, handle the complexities of online mediation, support various business logics, and more. A mediation system in telecom also provides in-depth analytics and real-time reports of data flow.
Gain Complete Visibility
Alepo Mediation System seamlessly manages workflows, portrays the flow of data from the collector to distribution systems, and defines how to transform data. An industry-leading mediation system in telecom, its module library simplifies custom creation of workflows, providing access to various data collectors, processors, and target systems, delivering ready-to-use data to downstream systems.
The telecom Convergent mediation platform enables data visualization across the workflow, providing greater transparency in data processing and minimizing errors. Its comprehensive interface and drag-and-drop GUIs simplify system configuration.
The Convergent Mediation System provides easily configurable error rules and numerous error-handling scenarios ensure rapid preventive action, capturing and reprocessing workflow errors in real-time. It provides comprehensive statistical analysis and generates real-time reports to monitor the data flow, ensuring no records are lost.
Streamline Data Processing
The billing mediation system enriches, processes and transforms data by supporting different business logics such as encoding and decoding, conversion, field modifiers, normalization, merging, duplication check and more. It applies the right business logic for different downstream applications and improves the operator's processing capabilities.
The data enrichment module of the convergent mediation platform comprises diverse functional processors to handle a wide range of offline and online mediation complexities to replace custom language-based development.
Alepo's telecom mediation platform provides a predefined library of data-processing modules that reduce overheads and enhance the telecom mediation system's efficiency. It collects large volumes of data from multiple network sources and distributes it to various downstream systems. The mediation billing system's accuracy helps prevent revenue leakage.
Simplify Streaming Operations
The convergent billing mediation platform facilitates the rapid addition of all vendor- and industry-specific standard protocols for the collection and distribution of CDRs. With support for various communication protocols (FTP, SFTP, TAM, TCP/IP, web services), it consistently performs data collection from wireline, wireless, IP, and VoIP networks.
The BSS mediation system easily and seamlessly integrates with legacy systems, unifying operations and optimizing network architecture. A vendor- and network-agnostic approach ensures project success in new 5G networks with IoT devices, and their data pipelines can be converged and transformed.
As one of the industry's leading billing mediation vendors, Alepo ensures that its Convergent Mediation System lowers operational costs and ensures zero impact on existing IT infrastructure. Its 3GPP standard-compliant architecture enables smooth communication between business support systems (BSS). Alepo's BSS mediation system integrates with multiple legacy systems using a predefined module library and automated workflows. The convergent mediation platform's API-compatibility facilitates rapid and seamless transformation projects, modifying the APIs of newly deployed components to the operator's existing format.
Migration is often fraught with pitfalls, but ensuring its success is key to any modernization project. Download the whitepaper for insights on designing a failproof migration strategy to ensure a seamless transition.
Alepo enterprise-grade Billing Mediation System is a convergent platform to filter, correlate, merge, normalize, and distribute CDRs to downstream systems. Know more about its features, benefits, modules, USPs, and more.
With its class-leading 5G-ready architecture, Alepo's Digital BSS helps CSPs transform into digital service providers. The modular system offers a host of crucial functionalities, including mediation, that can be deployed independently or in tandem.
The operator evolved to a 4G LTE and WiFi network using Alepo's Digital BSS, including mediation and a convergent billing and charging platform. NTA increased ARPU by 70% and total revenue by 50% in just two months, and smoothly migrated its existing subscribers.
Aiming to support the Niue government's plan to transform telecommunications on the island, Telecom Niue partnered with Alepo and Blue Arcus to launch 4G LTE services and deliver high-speed internet connectivity. The operator swiftly onboarded over half of the island's population.
The operator overhauled its network with Alepo's digital transformation. The project helped Eswatini Mobile eliminate the frequent network disruptions and lags it previously experienced, boosting CX, reducing churn, and increasing revenue by XY% in three months.
5G promises a transformational customer experience, and to fully monetize this transformation and derive maximum ROI, operators must have an effective digital BSS stack.
Alepo's digital transformation modernized Eswatini Mobile's network, boosting CX by ending frequent network disruptions, digitizing self-care, enabling advanced plans.
Alepo had initially deployed a billing solution for TTC's LTE and WiFi services in 2017 On validating its success, TTC expanded its scope to a single convergent platform for all services The unified convergent platform offers support for 3G, LTE, and fixed-line...
Main mobile service provider on the South Pacific island of Niue In August last year, it launched 4G/LTE plans using Alepo's digital BSS platform The project has given residents and tourists access to new services: 4G speeds, VoLTE calls, digitized bill payment...
With the new fully convergent billing system, the National Telecommunications Authority (NTA) will have the ability to respond to shifting needs in the island nation with the flexibility to support new services. Further, Alepo's solution will enable NTA to roll out...
Subscribe to the Alepo Newsletter