Private 5G and WiFi 6 are gradually going mainstream. Both come with their own set of advantages. Private 5G leverages next-gen technology and delivers it over a secure network for a host of enterprise use cases. WiFi 6 can be deployed in stadiums, office buildings, and a host of public places; can enable consumer automotive applications such as in-car entertainment; and provides a host of capabilities such as low latency, high data rates, and more. But are these features enough for WiFi to cover all types of applications, or should operators still use it alongside
5G networks
?
How WiFi benefits cellular networks
Private and commercial WiFi networks have been augmenting legacy cellular networks to provide last-mile connectivity for several years now. WiFi has helped extend cellular network coverage in closed public spaces where it would otherwise be difficult for subscribers to find range.
Use cases such as WiFi calling and WiFi offload continue to help operators. They help save bandwidth, reduce operational costs, and reduce network congestion.
In addition, commercial WiFi networks also provide a revenue stream for businesses. As the network is tied to a physical location and has access to detailed information on network user demographics, operators can leverage data to create highly targeted ads and offerings.
And now, as 5G rolls out, WiFi will continue to play a pivotal role as a bridge to and from 5G.
How does private 5G work?
As the name suggests, private 5G is a secure and resilient wireless next-gen private network. It is designed for custom enterprise use cases that demand ultra-high bandwidth, speed, reliability, and ultra-low latency over a secure and private network. It can be deployed for enterprise businesses such as stores, malls, parking lots, manufacturing plants, mining facilities – the possibilities are endless.
Enterprises have the option to deploy and manage these private 5G networks on their own or have them managed by telecom operators or other vendors. Initially, a private 5G network may be somewhat complex to install and operate for an in-house IT team. Telecom operators, as well as vendors such as Amazon, are trying to address this by providing private 5G as a service to enterprises.
Many last mile 5G devices, from routers to phones to other end-use devices, are also slowly hitting the market.
In most cases, private 5G will run on unlicensed spectrum, such as the CBRS spectrum in the US. However, operators providing private 5G network-as-a-service can use other available spectrums for their private 5G deployments to optimize their networks.
Why private 5G is set to displace traditional WiFi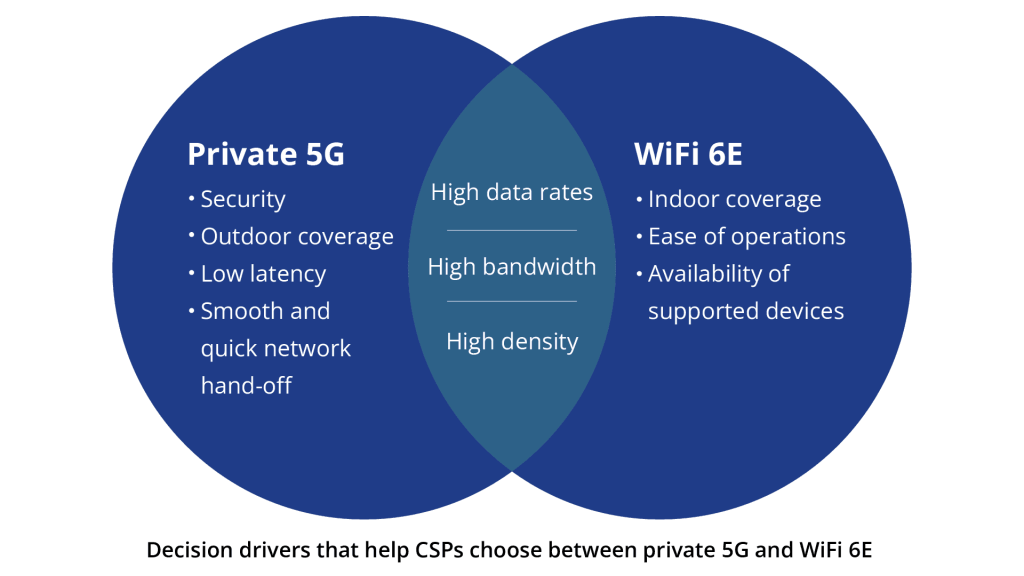 With the same advantages of a public 5G network such as high throughput, immense capacity, low latency, and inherent security, private 5G provides advantages that far exceed WiFi. This means it has the potential to displace traditional WiFi and other legacy networks, especially in deployments where outdoor and large area coverage is required. This includes:
Critical communication networks such as a remote oil rig, where reliability is important.
Industrial wireless networks with several sensors, AR/VR, robots, and more, where high bandwidth and low latency are critical.
Campus use cases where the ability to make phone calls is important.
What sets WiFi 6 apart
Limited security, scalability, and efficiency have been challenges with traditional WiFi technology. Previous generations of WiFi focused on increasing data rates and speed. WiFi 6 (also known as 802.11ax), however, is the new generation of WiFi technology with a renewed focus on efficiency and performance.
With WiFi 6E, devices can leverage a huge 1.2 GHz (1,200 MHz) wideband over a 6 GHz unlicensed spectrum. WiFi 6E focuses on making the network efficient for multiuser access with performance gains to utilize 80 percent of the bandwidth for the data plane.
In 2021, over 50 percent of all WiFi product shipments were of WiFi 6. Technology research group IDC predicts that there will be 5.2 billion WiFi 6 product shipments by 2025, 41 percent of which will be WiFi 6E devices.
WiFi 6E access points will be backward compatible, which means existing WiFi-enabled devices will continue to work.
Also, WiFi has the advantage of being an incumbent and easy-to-use technology over private 5G. So, WiFi private networks will continue to serve various use cases, from commercial wireless hotspots and Industrial IoT (I-IoT) deployments to indoor high-density wireless networks for large venues.
WiFi 6 will enhance the private 5G experience
Private 5G will compete with WiFi networks and likely win where security, outdoor coverage, reliability, and low latency are important. But the private 5G market is still in the early stages of adoption.
WiFi, especially with the introduction of WiFi 6E, will continue to be relevant for private networks, considering the devices it supports, ease of operation, and advanced technology. However, it will not sufficiently support all use cases, such as high-mobility and long-range communication requirements, for example.
In fact, for applications like Industry 4.0 use cases, WiFi 6 and private 5G will go hand in hand.
While public 5G networks roll out and provide high data bandwidth, data use will also grow at the same pace. Telecom operators will have to continue their strategy of leveraging private networks to offload calls and data.
Alepo's AAA solution is designed for carrier offload use cases that benefit both private 5G and private WiFi networks. Further, enterprises that are adopting private cellular networks need a converged core (4G/LTE + 5G) solution so a large percentage of existing 4G devices can also be used on this network. Alepo's Compact Core is designed exactly with this market need in mind.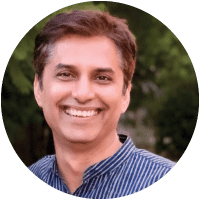 Atul Kshirsagar
Executive VP – Engineering
Atul drives 5G core and Digital BSS R&D at Alepo. With over 25 years of experience in the field, he speaks with authority on Telco/5G, Internet of Everything, and Cloud/SaaS. Apart from his love for technology, Atul enjoys sports and the outdoors.
Subscribe to the Alepo Newsletter