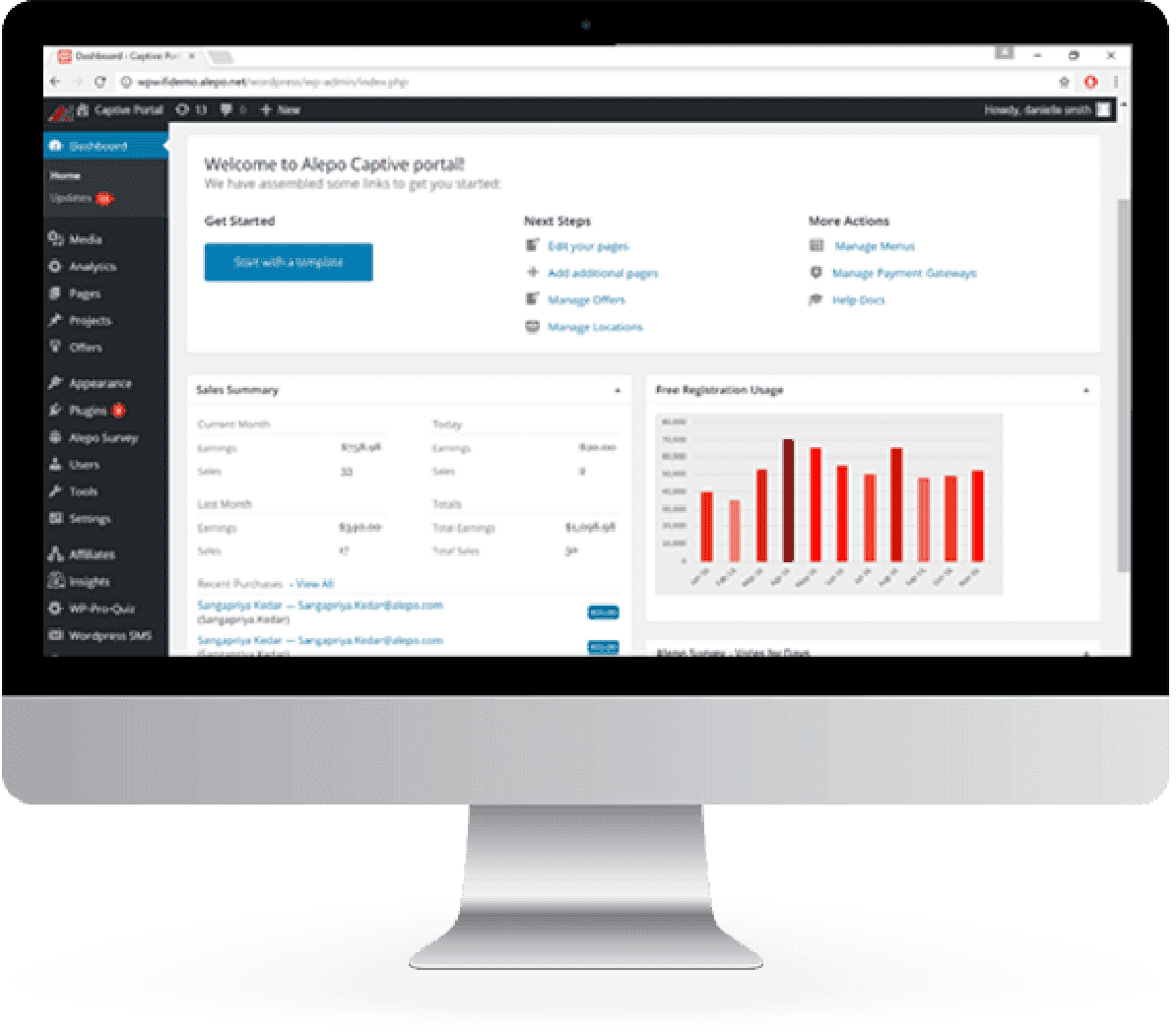 WiFi Service Management Platform
WiFi Service Management Platform
(WiFi SMP)
Alepo WiFi Service Management Platform (SMP) enables operators to quickly build a
carrier-class WiFi network
and monetize direct customer engagement and engagement via affiliates. It facilitates WiFi service monetization through contextual advertising, customer experience, and
partner management
.
What is a wifi service monetization platform?
Monetizing WiFi is a challenge for service providers, with fewer customers willing to pay for WiFi services today. A modern WiFi service monetization platform (WiFi SMP) enables service providers to create sponsored services in addition to paid plans. Customers can access the operator's WiFi hotspot network in public places for free, after watching a video advertisement, completing a survey, logging in using their social credentials, and more, and the operator generates revenue without having to directly charge customers.
How can telcos monetize wifi?
To monetize WiFi today, service providers need to leverage more sophisticated monetization opportunities than only paid journeys and must incorporate analytics, redeemable vouchers, contextual and targeted advertising, personalized offerings, location-based offers, and more. A WiFi service management platform enables them to create captive portals to directly interact with customers, create multiple custom offers, segment and target customers, forge partnerships, and custom-make multiple WiFi captive portals for themselves as well as affiliates.
Revenue-Enhancing Features of Alepo WiFi SMP
Built for WiFi Roi
Alepo WiFi WiFi Service Management Platform lets you offer direct-to-consumer services through paid plans as well as sponsored access through social logins, surveys and video ads, and more. Create multiple captive portals while enabling affiliates to do the same.
The advertising module lets you effortlessly create targeted ads for partner brands.
The built-in partner lifecycle management module enables creating and managing a WiFi reseller ecosystem, including ISPs and MNOs for value-added services (VAS), revenue-share and commission-based models, and more.
The WiFi SMP also enables wholesale and bulk collaborations with CSPs for WiFi offload and international WiFi roaming.
Download solution brief – Carrier WiFi in the 5G Era – to learn about WiFi business models that help generate a high return ROI
Enables Diverse Offers
The platform supports several unique business models for varied customer and business needs: advertisements, vouchers, affiliate and partner management, WiFi offload partnerships, VAS, and more.
It integrates seamlessly with cellular network components like the HSS and billing systems, enabling you to integrate with your own or a partner's mobile network for a host of services.
Regardless of your architecture, the platform seamlessly integrates with legacy WiFi gateways and controllers through its vendor-neutral standards-compliant architecture.
Fully Customizable
Through gated access, the WiFi SMP enables you to collect user data and create personalized offers for captive portal users.
Quickly build personalized portal pages to match your branding, geo-specific customization for location-based advertising, and more.
Create an unlimited number of customized offers to segment and target customers. Offers can be generated based on:
Validity periods
Gated access to speed-boosted WiFi
Specific affiliate rates and offers
Easy to Use
Alepo WiFi SMP has a robust, modern interface, offering templates and drag-and-drop design tools for creating captive portals.
The design of captive portals is geared at business users and does not require an understanding of javascript or HTML. Based on WordPress, it includes a vast library of themes, templates, and plugins, enabling quick and inexpensive rollout with lowered dependency on external vendors for changes. Previews help avoid errors and faults before any portal page goes live, and you can easily make modifications.
Alepo's all-inclusive WiFi SMP helps maximize ROI and leverage the benefits of a best-in-class WiFi network, including managing everything from the customer journey to the full partner lifecycle. Read the solution brief to know more.
WiFi hotspots remain the most viable part of a wireless network's mobile data strategy to deliver instant and high-speed data connectivity in the absence of network coverage. Read this white paper on how operators can unlock new revenue streams.
Built to maximize ROI, Alepo's WiFi SMP enables operators to fully monetize their networks. It drives revenue, reduces costs, and integrates seamlessly with existing networks. Learn about its features, capabilities, benefits, and more.
Colombia's principal CSP, ETB, deployed Alepo's Carrier WiFi to deliver consistent and reliable data services to its LTE mobile subscribers, automatically offloading them to the hotspot network to fill coverage gaps. In just one month, they reduced churn, grew the subscriber base, and boosted CX by 5%.
The client deployed Alepo's ROI-driven public WiFi solution to provide high-quality internet connectivity to the province's residents. Read the case study to learn how Alepo's solution, which included the WiFi SMP, AAA Server, and AAA EMS, helped the client in gaining enabled next-gen service creation capabilities.
Leading operator m:tel launched mobile offload and free public WiFi services using Alepo's carrier-grade WiFi solution, With advanced monetization and rapid service creation capabilities, m:tel increased WiFi usage, reducing the load on their cellular network to significantly lower operational costs.
As internet usage becomes a bandwidth-straining practice, a data monetization strategy remains an ideal solution for ISPs to retain and grow their customer base and earn higher data revenue while combating the threat of OTT.
Alepo and Nomios partner to offer carrier-grade AAA solutions. Nomios to provide secure AAA solutions to operator clients, starting in the Netherlands.
Alepo will deploy its Broadband AAA for the network transformation, enabling Celsia to support evolving demand, introduce automation, boost QoS, lower OPEX, and more.
Eiasa has launched the high-speed fiber broadband service – Megaya – using Alepo's Broadband AAA solution, in partnership with system integrator Italtel.
Orange Guinea Sonatel to streamline FTTH operations using Alepo' AAA Transformation solution to improve agility, performance, and customer experience.
Subscribe to the Alepo Newsletter