Post-pandemic market dynamics have been challenging for global CSPs, who have emerged as essential service providers dealing with surging demand from millions working or studying at home. At the same time, there have been significant challenges running their businesses with in-person restrictions and high staff turnover. For many operators, the past year was time to accelerate their digitization roadmap by several years, introducing more digital services and implementing infrastructure to monetize these offerings. This cultural shift driving demand for data services and digital journeys will continue into next year and beyond. In an environment where more retail and enterprise consumers are demanding digital services and digital engagement, what trends can telecom operators expect in 2022?
2022's top 5 telecom trends
Digitization of business models
The pandemic has completely changed how customers interact with their service providers, transforming the way business is conducted. More interactions are online, and subscribers are more inclined to choose a service provider who offers digital onboarding and self-care services. While many have already modernized their networks, in 2022, CSPs will continue to transform operations through digitalization of infrastructure and services.
More operators will also introduce the zero-touch network, which enables 100% digital customer journeys. This means replacing all physical touchpoints such as stores or support agents with digital and automated ones. Operators will be able to digitize customer experience (CX) with fully digital sales and support, while keeping their initial investment and overheads low. They will be able to offer customers full control over their subscriptions, implementing end-to-end automation to enable everything from digital self-onboarding and eKYC to accessing self-help using chatbots.
To support more advanced and digital services, operators will also need to implement more flexible and agile backend operations and systems. This includes technologies such as hyperscale infrastructure, automated workflows, artificial intelligence (AI), digital apps, and more. Many operators may introduce a new lean, agile, cloud-native digital brand rather than attempting to transform their existing complex network infrastructure.
Focus moving from IoT to IoE
The enterprise segment will drive growth over the new few years, and connectivity is just one part of what CSPs have to offer. Business models will evolve to provide end-to-end service offerings, including many new innovative use cases around IoT. In fact, there will be a shift from simply facilitating use cases involving the Internet of Things to applications that leverage the Internet of Everything. What exactly is the difference between IoT and IoE? The simple explanation is that IoT connects machines, while IoE extends beyond connecting mobile devices and facilitates intelligent connections between all types of data, processes, people, appliances, and things. These connections will be facilitated over public or private networks over standard protocols, and each one can be accessed and measured in real-time. With billions of potential connections supporting a more cognitive and intelligent environment, IoE holds the potential to transform our lives.
This report forecasts that the global IoE market will reach $3,352 billion by 2022. While actual implementation of use cases may still be a while away, there will be significant investments in research and studies to determine the most relevant applications. What use cases networks will facilitate relies heavily on industry-based needs and how they evolve their business models. Industries such as manufacturing and mining are likely to be early adapters, and are already implementing process automation.
Acceleration of cloud deployments
Gartner's Top Strategic Technology Trends for 2022 report predicts that by 2025, cloud-native platforms will serve as the foundation for over 95% of new digital initiatives, which in 2021 are less than 40%.
Cloud deployment provides a host of benefits to CSPs. For one, it helps keep implementation and operational costs low. It enables telcos to scale up and down to meet traffic demands, optimizing their network resources. It also supports operators to take the 'pay as you grow' business approach (another trend that will become increasingly popular in 2022). This model means operators can achieve faster time to market and minimize costs as they only pay for the services that they actually use – both benefits that will help them remain relevant in the increasingly competitive market dynamics we're likely to witness.
Aside from facilitating CSPs to automate processes and operations, deploying in the cloud will also serve as the foundation for generating new revenue streams and market growth opportunities by implementing tech innovations like data analytics and 5G.
Enterprise Private 5G
The adoption of private 5G networks will start gaining more traction around the world. As these dedicated networks provide security, speed, and bandwidth advantages over WiFi and LTE, they will be game-changers for enterprises.
In 2022, we are likely to see adoption from enterprises such as manufacturers who require 5G capabilities to implement transformative applications that drive smart factories, digital transformation, and IoT. Private 5G will also help forward the vision of smart manufacturing and smart factories. In addition to supporting use cases such as IoT, automation, and enabling ultrafast and reliable connectivity, it will help build factories without wires and cables. This will help manufacturing units drive revenue by saving time and effort while maintaining a clean clutter-free factory floor for robots and automated machines to perform operations.
Cybersecurity
As advanced services such as IoT become prevalent, operators will have access to more customer data than ever and will be expected to provide more personalized experiences by leveraging this data. CSPs need to protect this data to maintain customer trust. And with the huge increase in cyber crime, there will be more region-specific standards and compliances from a regulatory standpoint.
Security in 2022 will go beyond the traditional approaches, with assets and users becoming more mobile. It means implementing a cybersecurity mesh architecture (CSMA), which helps provide an integrated security structure to keep all assets safe, regardless of their location.
From the security standpoint, another added layer that operators can provide is the eSIM. By transmitting all SIM data digitally, operators can eliminate the need for a physical SIM card and delivery address, securing customer data through online verification.
Conclusion
In 2022, 5G and digitalization of networks and service offerings will continue to drive revenue and subscriber growth. A host of new devices and technologies are making 5G and the promise of its advanced use cases a reality. Operators will need to support this growth by implementing modern next-gen applications and infrastructure, such as leveraging the public cloud, all while keeping security in mind. Alepo provides a host of digital-first offerings that enable operators to future-proof their networks. Want to know more about our 5G-ready cloud-based solutions?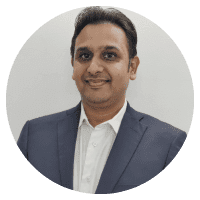 Pankaj Garg
Director, Product Management
Pankaj Garg is a telecom and FinTech expert with over 15 years of experience in the software industry. Handling digital BSS and 5G offerings is among the many hats he wears at Alepo. Always up to speed with the newest advancements in the products he handles, he takes it slow only when he's road-tripping across India to discover new places.
Subscribe to the Alepo Newsletter