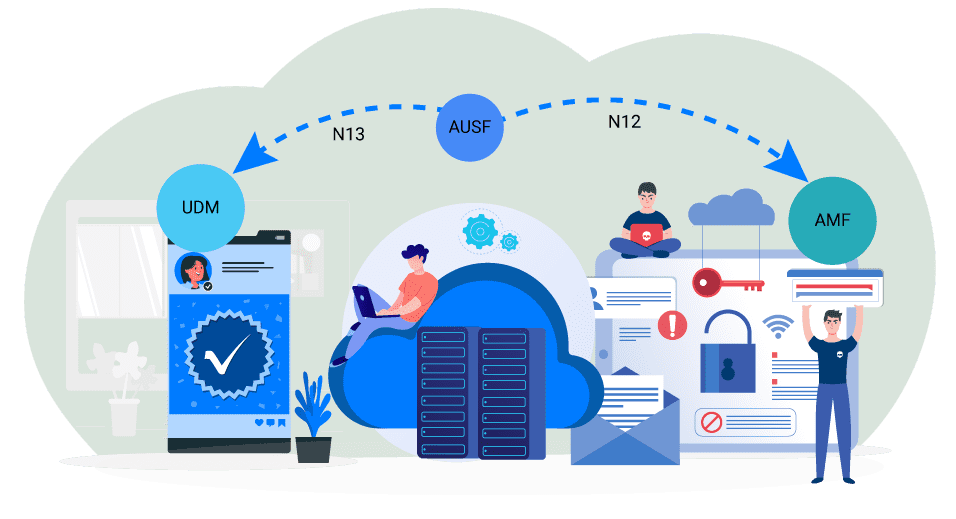 Authentication Server Function (AUSF)
Authentication Server Function
Part of Alepo's Converged Core offerings, Alepo's Authentication Server Function (AUSF) is a 3GPP Release 16 compliant network function. Crucial for secured network access, the AUSF is responsible for the security procedure for SIM authentication using the 5G-AKA authentication method.
What is Authentication Server Function (AUSF) in 5g ?
Authentication Server Function performs 5G authentication and Key Agreement method 5G AKA. AUSF also offers additional support to handle concealed or privacy-protected subscription identifiers.
What function does AUSF perform in 5G?
5G AUSF receives authentication requests from the Access and Mobility Management Function (AMF) and interacts with Unified Data Management (UDM) to obtain authentication vectors for processing 5G AKA authentication, and validates network responses to determine whether or not the authentication was successful. It also handles re-synchronization procedures as a part of 5G AKA authentication.
Alepo's digital transformation provided a single unified platform for the operator's LTE, 5G, IPTV, and fixed broadband services. It introduced automations to streamline processes, digitized support, lowered OPEX, and more.
With a secure, flexible, and scalable architectural framework, Alepo's 5GC solution provides key 5GC components to enable 5G use cases. Download the flyer to know how the solution simplifies the transition to 5G.
SDM facilitates a swift and easy transition to 5G. At the heart of 5GC, it supports 4G/5G interworking while enabling high-value next-gen use cases. In this webinar, Alepo's experts discuss the 5GC market, the role of SDM in 5G ROI, and more.
Prepare voice services for 5G with dedicated VoLTE PCRF. Discover the benefits and role of a dedicated PCRF in VoLTE, VoNR, and IMS networks.
Sunil Diaz joins Alepo Technologies as CEO, bringing vast telecom and technology expertise to foster innovation and steer the firm toward robust growth.
Teletok launches Alepo's convergent billing system, streamlining 4G LTE, GSM, PSTN, and ADSL management for efficiency, revenue growth, and streamlined operations.
TelcoBot.ai, a generative AI platform for telecom operators, is part of Alepo's generative AI solutions. This AI chatbot revolutionizes communication service provider operations.
Alepo and Nomios partner to offer carrier-grade AAA solutions. Nomios to provide secure AAA solutions to operator clients, starting in the Netherlands.
Subscribe to the Alepo Newsletter