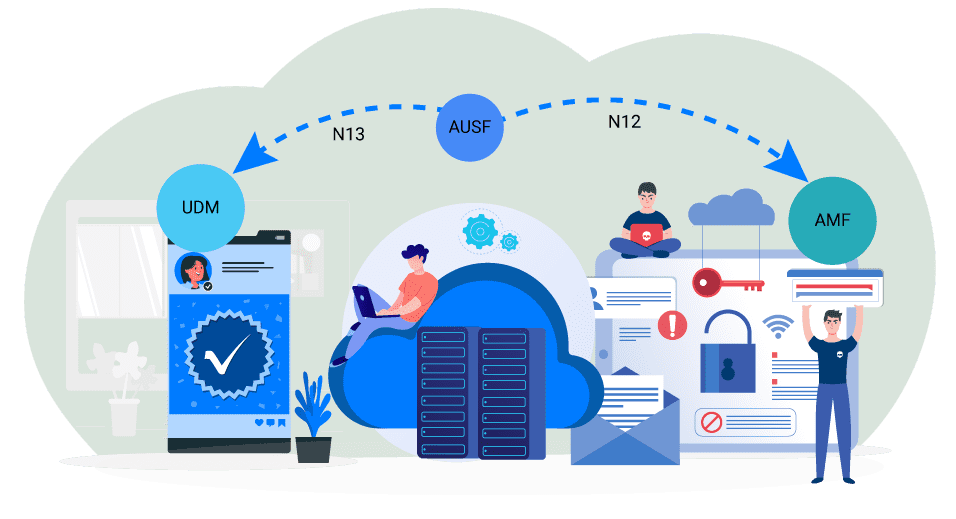 Authentication Server Function (AUSF)
Authentication Server Function
Part of Alepo's Converged Core offerings, Alepo's Authentication Server Function (AUSF) is a 3GPP Release 16 compliant network function. Crucial for secured network access, the AUSF is responsible for the security procedure for SIM authentication using the 5G-AKA authentication method.
What is Authentication Server Function (AUSF)?
Authentication Server Function performs 5G authentication and Key Agreement method 5G AKA. AUSF also offers additional support to handle concealed or privacy-protected subscription identifiers.
What function does AUSF perform in 5G?
5G AUSF receives authentication requests from the Access and Mobility Management Function (AMF) and interacts with Unified Data Management (UDM) to obtain authentication vectors for processing 5G AKA authentication, and validates network responses to determine whether or not the authentication was successful. It also handles re-synchronization procedures as a part of 5G AKA authentication.
Network Function: 5G AUSF
Seamless Authentication Support
Alepo AUSF provides authentication support for 5G services. In the 5G network, it performs various actions:
Handles routing based on SUCI and SUPI
Manages authentication confirmation timeout
Supports re-synchronization procedure
Maintains session states in an external centralized database for stateless operations
Microservice-Based Architecture
Alepo AUSF employs a microservice-based architecture in line with 5G Service-Based Architecture (SBA). Alepo Authentication Server Function supports:
REST-based APIs in compliance with open API 3.0 standards
An open, agnostic, and multi-vendor environment
Continuous integration and continuous deployment, reducing time-to-market
Flexible Deployment Models
Alepo's 5G Authentication Server Function supports containerized deployments as well as virtual machine-based (VM-based) deployment models to meet diverse business requirements. Features include:
Can be deployed in public, private, and hybrid cloud environments (with support for multiple cloud systems: Redhat Openshift, AWS, Windriver, MS Azure, and more)
Supports PaaS-agnostic deployments
The cloud-native SDM lets operators manage both 4G and 5G subscriptions from a unified platform, simplifying their transition to 5G. Download the solution brief to learn about the unique features of Alepo's SDM.
With a secure, flexible, and scalable architectural framework, Alepo's 5GC solution provides key 5GC components to enable 5G use cases. Download the flyer to know how the solution simplifies the transition to 5G.
SDM facilitates a swift and easy transition to 5G. At the heart of 5GC, it supports 4G/5G interworking while enabling high-value next-gen use cases. In this webinar, Alepo's experts discuss the 5GC market, the role of SDM in 5G ROI, and more.
To wisely capitalize on the monetization possibilities 5G brings, CSPs must focus on these top enablers: business models, partnerships, innovations, and network architectures.
Coopeguanacaste has launched public WiFi in Costa Rica using Alepo's Carrier WiFi solution, including its cloud-based WiFi SMP to launch and monetize superior customer journeys.
Alepo will deploy its Broadband AAA for the network transformation, enabling Celsia to support evolving demand, introduce automation, boost QoS, lower OPEX, and more.
Dominican Republic service provider, Wind Telecom, selects Alepo's cloud vendor-agnostic AAA to transform its GPON infrastructure for its FTTx network services.
Orocom S.A.C. selects Alepo Digital OSS/BSS to deliver FTTx broadband in Peru, which will allow the operator in centralized and remote network management.
Subscribe to the Alepo Newsletter