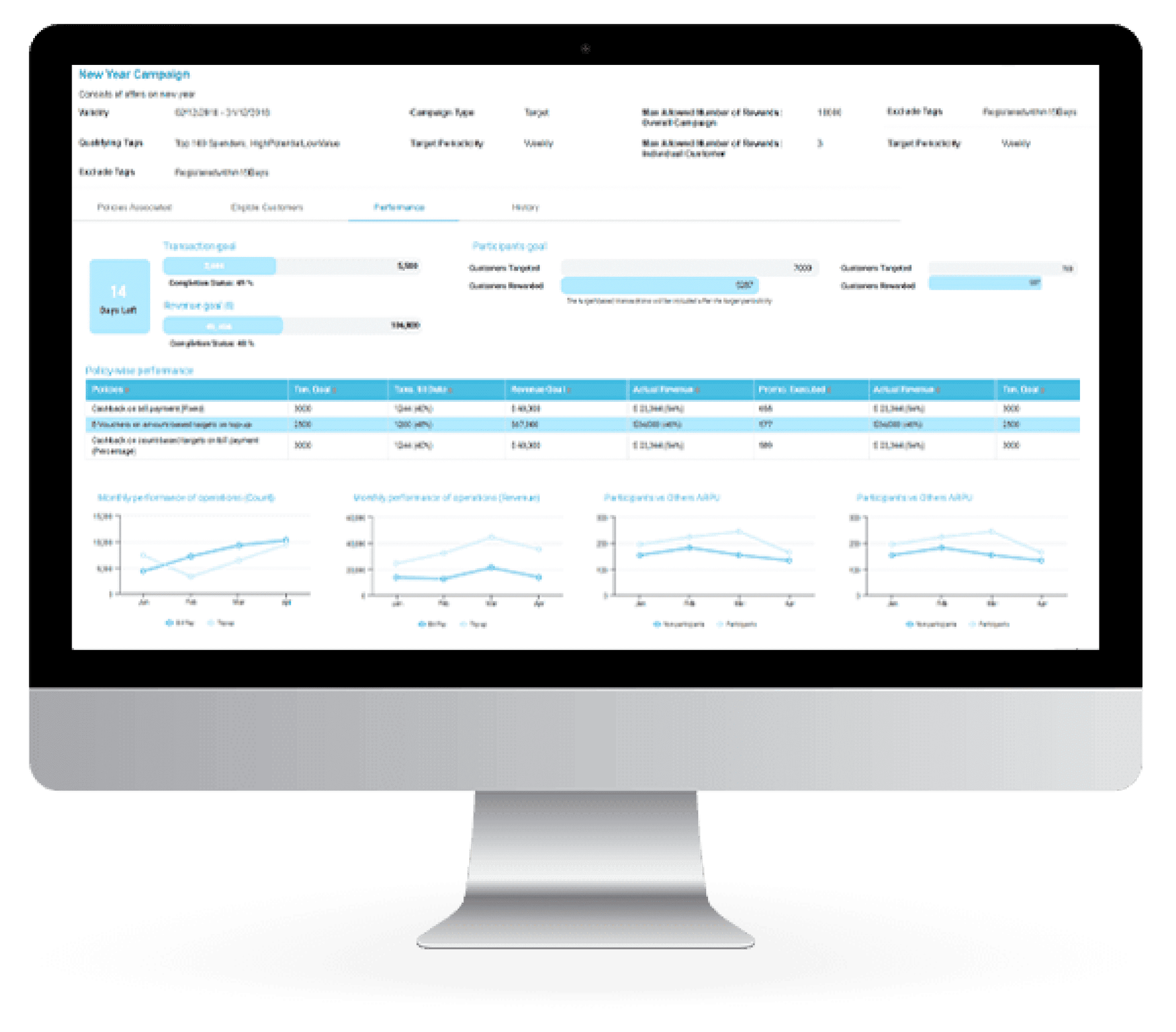 Promotions and Campaign Management System
Promotions and Campaign
Management System
Alepo Promotion and Campaign Manager is an intuitive analytics-driven system to manage customer digital engagement such as promotions, campaigns, loyalty points, and more, helping telecom operators maximize ARPU and market share while reducing churn by delighting customers.
What is a campaign management system?
A campaign management system, as the name suggests, helps operators create and manage all promotional offers, campaigns, rewards programs, and more. It includes analytics and BI reports to enable customer segmenting to create targeted and contextual offerings.
What benefits a telecom campaign management system offers?
A promotion and campaign management system is meant to help telecom operators encourage and maximize customer engagement. By enabling highly personalized and contextual offerings through the use of analytics, it helps enhance the customer experience (CX), winning customer loyalty, reducing churn, and eventually helping operators boost ARPU and overall revenue.
An End-to-End Promotion and Campaign Management System
Boost Customer Experience
Alepo's Promotion and Campaign Manager, an 
Alepo Digital BSS
module, enables operators to configure and launch personalized promotions and offers, including location-based offers, device-based campaigns, upselling products, transaction-based rewards, cumulative-based periodic targets, and more.
It includes a built-in rewards catalog to define various loyalty points, cashback or digital credits, e-vouchers, airtime, data, physical gifts, and more along with their redemption rules.
Operators can send multi-channel personalized communications to defined groups and orchestrate automated campaigns through a visual builder.
The system defines and chooses the most suitable templates to deliver optimized alerts in real-time, improving customer engagement.
The built-in data processor extracts relevant data from multiple external systems (OCS, CRM, billing, and more) and obtains the information needed to execute promotions. The Mediation System ensures flawless data distribution.
Run Real-Time Promotions
Build Flexible Campaigns
The campaign management system lets operators provide numerous promotional offers in real-time. They can set campaign limits such as maximum rewards or how many rewards each customer can receive.
Test, Evaluate, And Monitor
Operators can monitor a campaign right until it is delivered, minimizing errors in execution. Campaign performance is assessed against achieved goals, with insights into how it performed compared to similar campaigns by competitors. Operators can also monitor evolving customer trends and behaviors.
Deploy Dynamic Campaigns
Customer Profiling
Alepo Promotion and Campaign Manager enable more relevant promotions by allowing customer segmenting using automatic tagging based on cash-in, ARPU, plan type, total years of subscription, billed amount, age, profession, income, and more. Operators can exclude blacklisted customers from campaigns, and customers have the option to opt-in or opt-out.
Flexi-Rule Structure
The system swiftly adapts to change and enables building a strategy based on local regulations, business goals, market dynamics, and customer profiles.
The end-to-end CVM system streamlines the creation, launch, and management of innovative campaigns, promotions, and loyalty programs. It helps communications service providers boost customer experience while growing revenue. Learn about its components, benefits, use cases, and more.
Differentiated plans are the key to mobile broadband success, helping boost CX along with revenue growth. Learn how an open and flexible package solution like Alepo's Mobile Broadband Accelerator solution enables wireless network operators to cost-effectively accelerate success without complex changes or replacements to their existing infrastructure.
Alepo's Data Gifting is an adjunct solution that enables MNOs to empower customers to gift their spare mobile data to other subscribers. It helps improve subscriber loyalty and satisfaction, driving data adoption without significantly degrading margins. Learn how it unlocks the true potential of data exchange and enhances the data experience for customers.
One of the largest in the region, the mobile operator partnered with Alepo to reassert its market leadership by introducing innovative 4G data plans and promotions. The operator upgraded to Alepo's latest BSS and AAA and introduced the OCS. Read how the upgrade boosted revenue, improved network efficiency, and enhanced CX.
ACS launched Myanmar's first LTE-only service using Alepo's Digital BSS and managed service offerings (MSO). A month in, the operator recorded over 60K subscribers. Read the success story of how the project facilitated significant revenue growth, ensured zero network downtime, and helped ACS introduce innovative marketing campaigns.
Having turned to Alepo to help resolve its frequent network disruptions and lags, the operator overhauled its network with Alepo's digital transformation. The project helped Eswatini Mobile eliminate its network issues, boosting CX, reducing churn, and increasing revenue by XY percent in three months.
Customer experience (CX) remains the top differentiator for telcos to gain an edge, and omnichannel self-care is the key to a foolproof CX strategy.
Alepo's digital transformation modernized Eswatini Mobile's network, boosting CX by ending frequent network disruptions, digitizing self-care, enabling advanced plans.
Alepo has deployed its BSS solution and Managed Services Offering (MSO), enabling Amara Communications to launch data plans Launch of the data-only service, called ananda, marks Amara Communications' entry into the burgeoning telecom market in Myanmar The service...
With the new fully convergent billing system, the National Telecommunications Authority (NTA) will have the ability to respond to shifting needs in the island nation with the flexibility to support new services. Further, Alepo's solution will enable NTA to roll out...
With Alepo's LTE and WiFi solutions, Tuvalu Telecommunications Corporation (TTC) aims for a swift rollout of new broadband.
Subscribe to the Alepo Newsletter