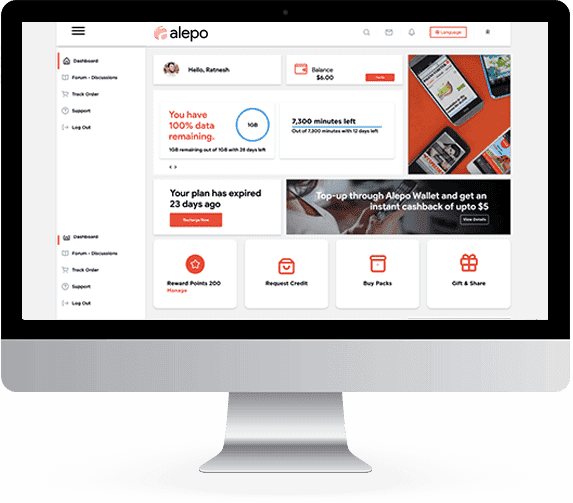 A holistic self-care offering with multilingual omnichannel support. Offer conventional (IVR, USSD, SMS) as well as modern digital channels such as web self-care, mobile apps, and AI-based chatbots for popular voice assistants (Alexa, Cortana) and social platforms (WhatsApp, Skype, Viber, Twitter, Facebook, and more).
What is omnichannel self-care?
Omnichannel self-care is a holistic customer support strategy that enables a seamless experience across multiple traditional and digital channels (social media, voice assistants, WhatsApp, and many more). Customers receive an identical user experience on any channel and in any language they choose. AI chatbots help provide instant 24×7 service so customers can resolve issues any time of day and from anywhere using their own devices.
What are the benefits of an omnichannel CRM in telecom?
An omnichannel CRM is a modern and holistic approach to self-care, empowering customers to have more control over their accounts and to resolve issues through any traditional or digital platform of their choosing. In addition to facilitating multichannel and multilingual support, it helps digitize and automate processes, simplifies purchases and payments, leverages advanced analytics to offer personalized and contextual services to customers, and enables instant 24x7x365 support through the use of AI chatbots.
Alepo's digital BSS stack helps communications service providers transform into digital service providers, providing modern and advanced modules including omnichannel self-care, CRM, and more.
CSPs face an increasing threat from OTT players, demanding a restructuring of their BSS architectures. This whitepaper explains how CSPs can innovate services, streamline processes, and digitize CX.
Reduce operational costs by allowing subscribers to self-manage their accounts through channels of their choice. Learn how easy it is to integrate Alepo Omnichannel Self-Care into any BSS.
The operator seamlessly migrated to a comprehensive digital BSS using Alepo's Digital Transformation, enabling rapid service creation, digital-first customer experience, and 24x7x365 customer support.
As part of TTC's phased digital transformation, Alepo provided unified web and mobile self-care. It enables customer self-reliance, letting them use the same login credentials for recharge, plan changes, and more for all networks.
The operator launched LTE services using Alepo's 5G-ready Digital BSS, omnichannel self-care, and unified convergent billing platform. More than 50% of the island's population was onboarded soon after deployment. Here's how.
Even as network usage patterns undergo a drastic change in these challenging times, there's still ample opportunity for companies to evolve. Here's how.
Alepo's Digital BSS will include centralized billing, affiliate management, web and mobile self-care, and will equip the operators to launch public WiFi in the future.
Alepo's digital transformation modernized Eswatini Mobile's network, boosting CX by ending frequent network disruptions, digitizing self-care, enabling advanced plans.
Alepo's WiFi monetization platform enables Cable & Wireless Seychelles to monetize its free and paid public WiFi plans. Includes an advanced self-care portal.
Alepo's network modernization solutions (Digital BSS, AAA) will upgrade Telecom Vanuatu Limited's (TVL) fixed data network. Enables advanced plans, web self-care.
Subscribe to the Alepo Newsletter