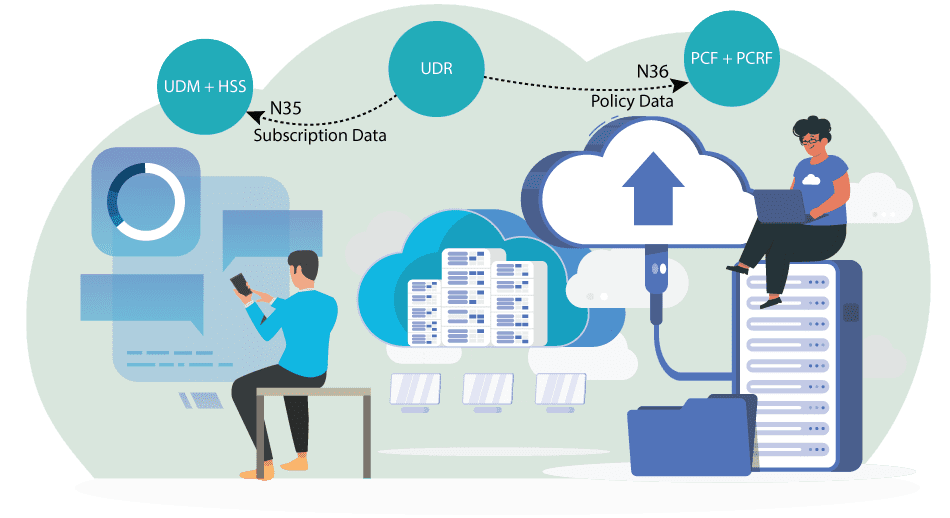 Unified Data Repository (UDR)
Alepo's 3GPP Release 16 compliant 5G Unified Data Repository (5G UDR) is a converged database that stores and manages subscriber data, SIM identities, and network service configurations. The UDR is used by multiple network functions such as PCF, UDM, and NEF to store service-specific parameters to be provisioned in the network for devices to use the service (such as V2X).
What is Unified Data Repository (UDR) in 5G?
The Unified Data Repository or 5G UDR is a centralized database that stores 5G subscription information, which is used by other network functions, in the following categories: subscription profile, policy data, application data, and. The 5G network can have multiple UDRs, each accommodating a different set or subset of data and catering to different NFs, or it can have a single UDR that serves all NFs such as NEF, UDM, and PCF.
What is the function of UDR?
5G UDR in telecom enables network functions to store and access subscription information. Consumer NFs can retrieve, create, modify, and delete data stored in the UDR. The Unified Data Repository also allows the NF service consumers to subscribe and unsubscribe to data change notifications.
Alepo's 5GC solution provides key components of the 5G Core, enabling the rapid launch of next-gen use cases and facilitating a smooth transition to 5G. Download the flyer to understand its architecture, network functions, and more.
Alepo's unified SDM solution provides a converged platform to manage both 4G and 5G subscriptions, easing the network upgrade path. This solution brief details how it works, the use cases it supports, its USPs, and more.
Alepo's experts provide insights on the role of SDM in the 5G Core, ROI opportunities, key solution components, and the use cases it enables. This webinar also includes a demo of Alepo's SDM portal. Watch it now.
Prepare voice services for 5G with dedicated VoLTE PCRF. Discover the benefits and role of a dedicated PCRF in VoLTE, VoNR, and IMS networks.
Teletok launches Alepo's convergent billing system, streamlining 4G LTE, GSM, PSTN, and ADSL management for efficiency, revenue growth, and streamlined operations.
TelcoBot.ai, a generative AI platform for telecom operators, is part of Alepo's generative AI solutions. This AI chatbot revolutionizes communication service provider operations.
Alepo and Nomios partner to offer carrier-grade AAA solutions. Nomios to provide secure AAA solutions to operator clients, starting in the Netherlands.
Mauritius Telecom deploys Alepo's carrier-grade WiFi solution, including WiFi SMP, AAA, WiFi Captive Portal, and more to modernize its WiFi services and evolve CX.
Subscribe to the Alepo Newsletter